General practice nurses (GPNs) are highly skilled practitioners and are essential to ensure the smooth running of general practice (NHS England and NHS Improvement, 2021). These autonomous nurses lead, support and encourage their patients to manage their long-term conditions holistically. GPNs work with their patients to gather insights to help provide them with individual support tailored to their needs.
The role of a GPN is often misunderstood by individuals and even downplayed by GPNs themselves. Despite the variety of tasks completed by GPNs, the role of the GPN is often unclear, and its scope and depth are not understood by the wider public (Launder, 2022). For many people, their perception of primary care is based on their own views or opinions from friends and family. For most people, contact with nurses at the GP surgery is limited, especially if they are fit and well. Likewise, for colleagues in other parts of the NHS, they rarely experience the reality of working daily in primary care as a GPN, which does not lead to a collective understanding of the role throughout the NHS, leading to myths.
Such a lack of understanding of the role may affect the number of nurses choosing to work in primary care as GPNs. Since the Five Year Forward View published in 2014 by the UK Government (NHS, 2014), emphasis continues to be on nursing and managing health conditions at home rather than admittance to hospital. Despite chronic disease management being one of the main tasks of GPNs, there is still a lack of understanding and encouragement for nurses to take on the role. Forward-thinking practices may be a step ahead and starting to 'grow their own' nurses from either healthcare assistants (HCAs) or offer student nurse placements to encourage students to consider practice nursing once they are qualified (Baines, 2022).
Despite the publication of the Five Year Forward View, for the past 8 years the number of GPNs employed has not dramatically increased. Nevertheless, the total number of nurses, which includes: advanced clinical practitioners, nurse dispensers, nurse specialists and nursing partners has increased from March 2016 (Figure 1) albeit with a slight drop in March 2022 before the upward trend seen again in April 2022 (NHS Digital, 2022).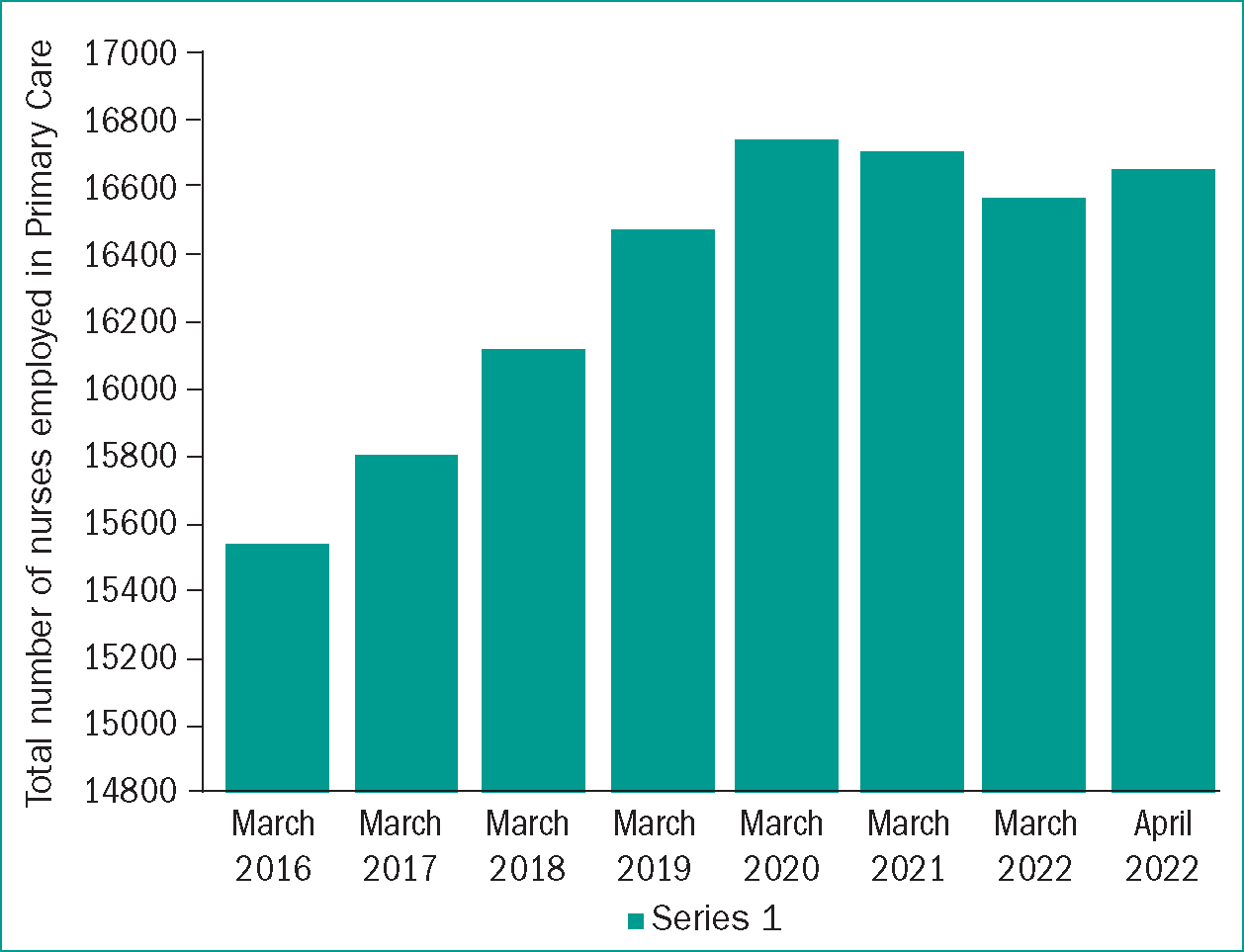 In comparison, Figure 2 demonstrates a decline in the number of GPNs employed. The data from NHS Digital (2022) clearly shows a decline in GPNs since March 2016. However, given the increase in advanced roles as detailed in Figure 1, this could explain the decline in numbers of GPNs as some of them may have changed roles.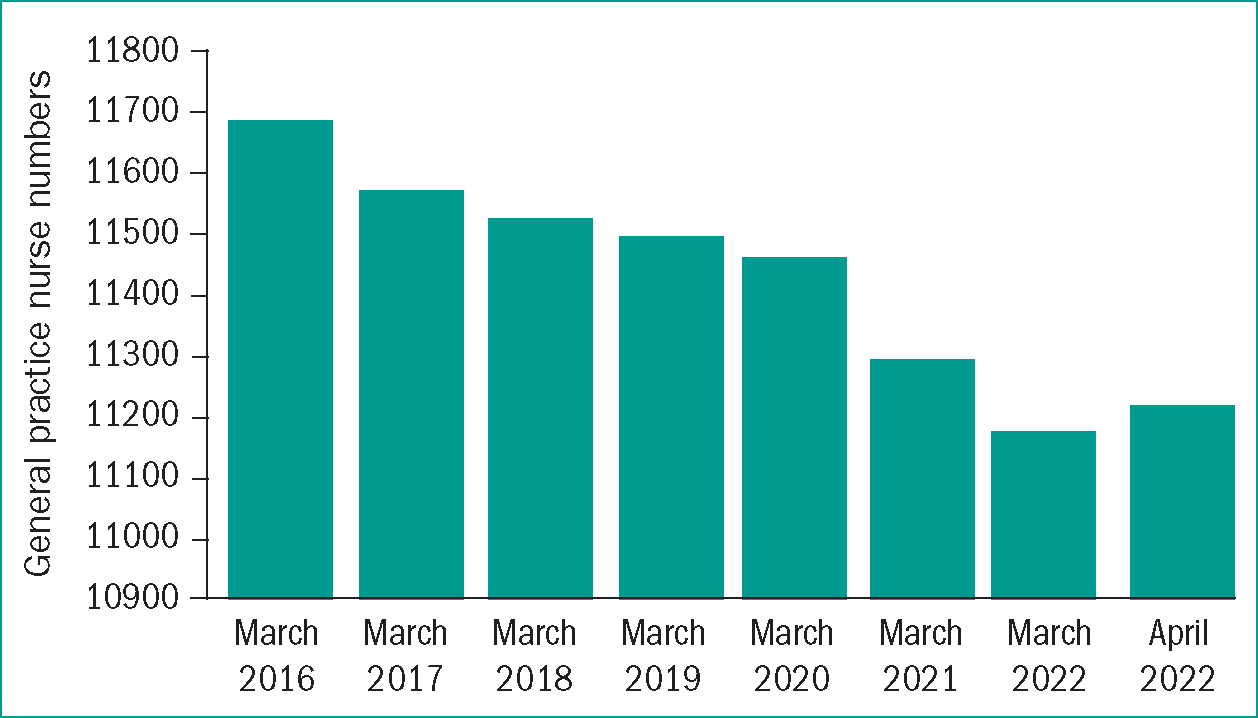 What is a practice nurse?
A GPN does not have to be a nurse that has completed an adult nursing degree; those that have completed child, mental health or learning disability degrees can also work as GPNs (NHS Health Careers, 2022) if they can demonstrate the relevant competencies. Not all nurses who apply to work as a GPN will have decided on this career straight away. Some GPNs will have started their career as HCAs and have developed a better understanding of the role while working alongside a GPN prior to starting any nursing degree.
GPNs are part of the multidisciplinary team that makes up GP surgeries. Although they are autonomous practitioners, they can work with many staff including clinical pharmacists, doctors, advanced clinical practitioners and physiotherapists. The nursing team can also vary with the inclusion of new roles such as nursing associates and associate practitioners.
I have only just qualified as a nurse, can I apply?
Many GP surgeries, especially those who are forward thinking and looking at how the workforce is in primary care, are willing to employ newly qualified nurses as a GPN. It is good for GP practices; they can shape these new nurses into the type of nurses they want. There are a few myths about general practice nursing and not being able to apply for a GPN post until a nurse has gained experience in critical care or accident and emergency, but these are groundless and incorrect (Gilroy, 2020).
In 2016, Ipsos Mori Research conducted a survey that found that student nurses believe that the role of a GPN is a more relaxed role compared to a nurse working on a ward (Ipsos Mori Research, 2016). Though, they also found that the role requires extensive experience that contradicts the slow pace of the role originally identified. The role of a GPN is one that is busy throughout the day, often seeing patients in 10-minute appointment slots. Despite the 2016 survey, student nurses continue to accept the myths surrounding nursing practice (Cunliffe, 2019).
For many student nurses, there are also concerns that general practice nursing can cause them to become unfamiliar with the skills they have learnt throughout their training (Cunliffe, 2019); but this is not the case. There is a possibility that some of the skills that they learned as a student will not frequently be required in the role of a GPN, but they will learn additional skills to help them navigate the role.
What is the initial orientation/induction like for GPNs?
Significant variations between practices have been identified regarding the induction of GPNs. While some practices offer a robust induction package, complete with structured courses, some practices only complete in-house competencies (Queen's Nursing Institute, 2019). Due to these differences and lack of consistency for GPNs, NHS England documented in the General Practice Nursing 10 Point Plan (NHS England, 2017) that there needs to be a national standard for nurses transitioning into general practice. To aid uniformity, the General Practice Nursing 10 Point Plan has an induction template designed for nurses entering general practice for the first time. However, this model is not only for use with registered nurses but can be adapted for use with medical assistants and primary care assistants. It is also useful to direct student nurses towards this model if they are considering primary care for their careers. This consistent approach should ensure that all new GPNs receive an efficient and effective induction period to ensure they become skilled and confident autonomous practitioners.
Named preceptor
As well as an initial induction period, GPNs should be assigned a named preceptor (Nursing and Midwifery Council, 2020) for their first 12 months in post. This recommendation aims to facilitate learning, set achievable goals, encourage and support development and confidence and facilitate the transition process from student to qualified nurse. 'Transition shock' is a known phenomenon that effects some newly qualified nurses in their first role after qualification (Clipper and Cherry, 2015; Wakefield, 2018), when the realisation of what is expected of them occurs. Although these nurses spend 3 years completing their nursing training and as much as newly qualified nurses can prepare for it, the true extent of it can only be felt once they have their pin and experience work as a qualified nurse. Similarly, for qualified nurses with experience working elsewhere in the NHS and nursing profession, the changing role and demands of primary care can lead to a shock during the transition. Identifying a named preceptor can help reduce these feelings and offer support and guidance during the transition period.
Training during the first year: internal training
For most new GPNs, they will work through competencies set by their employer for their first 12 months of practice. Notwithstanding the complexity of the role, there are no mandatory regulated competencies for GPNs. Despite the lack of consistency in competency frameworks for GPNs across the UK, the Royal College of General Practitioners (2015) developed a framework which addresses common core competencies that nurses require to be a fully efficient GPN (Table 1). There are some competencies listed which will take longer than 12 months to complete, such as chronic disease management and cervical screening.
Table 1. Competencies from the Royal College of General Practitioners
| | | |
| --- | --- | --- |
| Communication | Ear care | Mental health and well-being |
| Team Leadership | Wound management | Men's health |
| Personal and people development | Minor surgery | Women's health |
| Health, safety and security | Health promotion | Family planning and sexual health |
| Quality and service improvement | Health screening | Care of patients with long term conditions |
| Health and well-being | Cervical screening | Information and knowledge |
| Management of emergency situations | Immunisation of children and adults | General – learning and development |
| Therapeutic Monitoring | Travel health | General – development and innovation |
Royal College of General Practitioners, 2015
Training during the first year: external training
As well as internal training, GPNs can consider university courses to increase their knowledge and skill set. The Fundamentals of Primary Care/Practice Nursing course is a 12-month university course aimed at equipping GPNs with the core skills essential for the role. After 12 months, those who have taken the course will have gained theory and skills related to the role. For those in general practice who wish to conduct further study at a university, there is a Specialist Practice Qualification in General Practice Nursing that nurses can opt to complete, which enables them to obtain an additional qualification that is recorded on the Nursing and Midwifery Council (2021) register.
I want to be a practice nurse, but do I have to become an ACP?
In recent years there has been an increase in promoting advanced roles in primary care and encouraging GPNs to develop into advanced clinical practitioners by undertaking a Master's in clinical practice or standalone university modules such as minor illness and independent prescribing. While there are nurses who want to develop their skills and knowledge to become an advanced clinical practitioner, the role of a GPN needs to be encouraged, celebrated and supported. There is no requirement to advance the role of GPN with a Master's degree. There are a lot of GPNs who enjoy their day-to-day role and after 3 years of university studying for their nursing degree and further courses on completion, they may not feel they want to complete a Master's degree if they do not feel it is going to improve their work. For GPNs that would like to go back to university but do not want to become an advanced clinical practitioner, they could consider a Master's in leadership, especially for those GPNs that find themselves in leadership or managerial roles.
Conclusion
The role of the GPN is complex, skilled, relies on autonomy and is essential to the running of general practice. Despite this, the role is still frequently misunderstood and even downplayed by GPNs themselves. The role of the GPN should be encouraged, valued, promoted and respected by nursing colleagues throughout the NHS.
KEY POINTS
Despite persistent myths, a newly qualified nurse can apply for a position of a general practice nurse
There are various development opportunities for general practice nurses
The role is one that is complex, varied and autonomous but rewarding
CPD REFLECTIVE PRACTICE
Have you heard any myths about general practice nurses, if so, what have you heard and how do you feel?
How could you dispel the myths surrounding general practice nursing?
Do you feel these myths are barriers to getting new nurses to work in general practice?